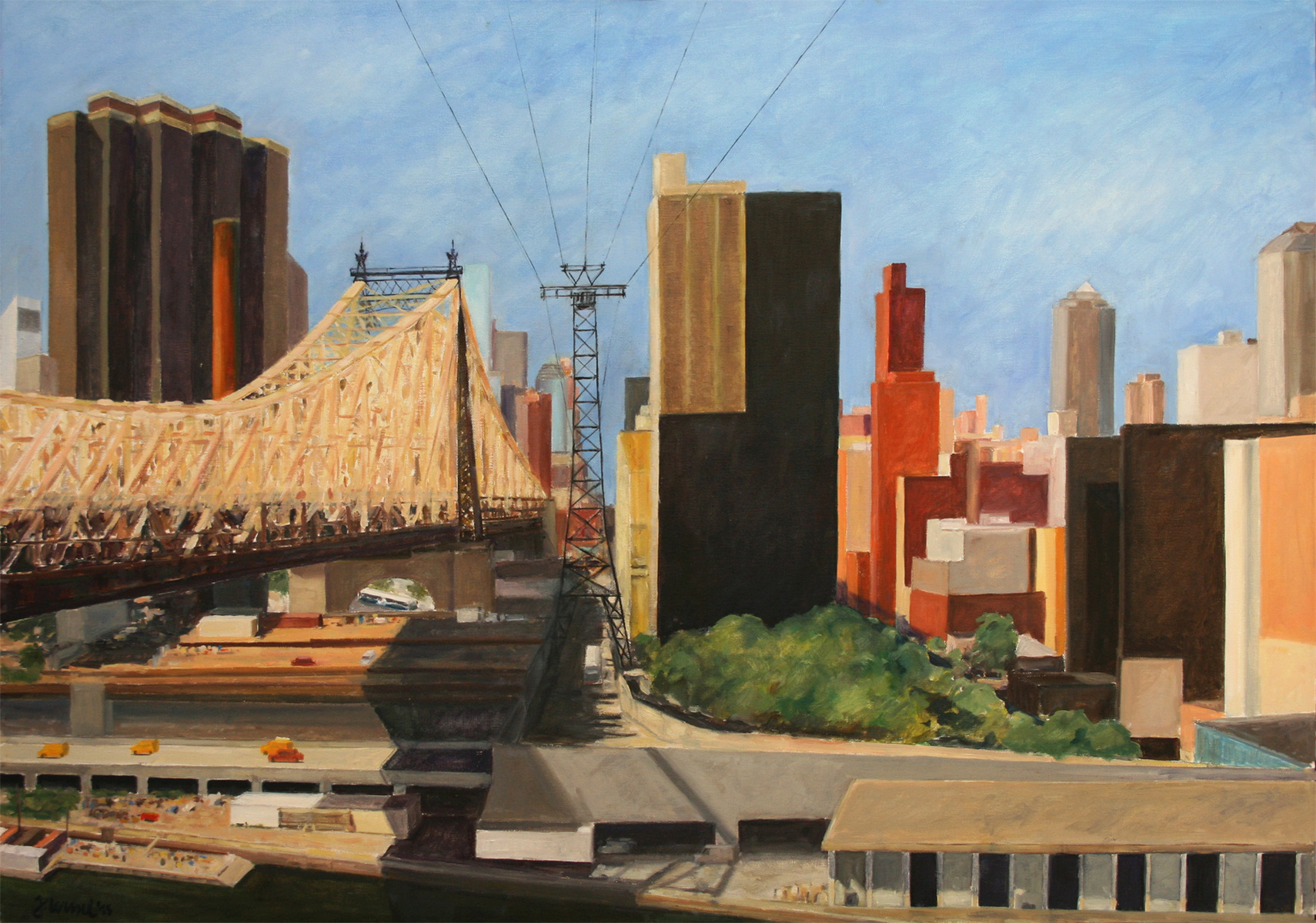 If you visit Roosevelt Island and walk from the Subway to the Franklin D. Roosevelt Four Freedoms Park you get your first look at the Queensboro Bridge, which with its powerful presence and idiosyncratic design spans the East River in order to connect to Manhattan.
For the trip from Roosevelt Island to Manhattan, I crossed the East River on the Roosevelt Island Tramway - a cable car. The view of the Queensboro Bridge from this elevated perspective created a whole new dimension for the planned artistic realization. I did a lot of photo notes during the trip. During the subsequent selection, I decided on this subject and started doing preliminary studies before I began painting in oil.
The challenge arises through the different perspectives and levels formed by the view from above. The bridge, directly leading into the picture is central to the composition without dominating the frame. The movement in the lower part of the image -the expressway and the construction sites by the East River- loosens the static representation of Manhattan. From my artistic point of view I want to invite to pause for a moment and give undivided attention to the familiar and commonplace with the objective to encourage the viewer to conscious visual perception and discovery so as to get a personal understanding of the object. This is the intention that drives my pictures.
As the picture was formed and matured in many sessions I wanted to learn more about the history of the Queensboro Bridge. During my research I came across this article by James Barron from the New York Times: To Fans, Queensboro Bridge Is A Steel Swan, Not an "Ugly Duckling". I confess that I too am a fan of this bridge and that it appears in a variety of my works.
A quote from The Great Gatsby by F. Scott Fitzgerald expresses it this way: "The city seen from the Queensboro Bridge is always the city seen for the first time, in its first wild promise of all the mystery and the beauty in the world."